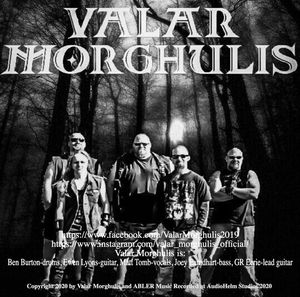 Bio
Valar Morghulis, hailing from Salisbury, NC is a metal band blended by five guys with a broad range of influences. Combining elements of thrash metal, death metal, black metal, groove metal and doom metal, we make music that fans of multiple sub-genres would bang their heads to! 
We started making music in the spring of 2019 and playing shows by fall that same year. We recorded our self-titled EP in January 2020 which was released on 2/29/2020.  Little did we know the COVID-19 was about to change the music world as we know it.  During this time of lockdowns, limited gatherings, ups and downs, we continued writing new material and headed to the studio in early 2021 with Audio Helm Studios in Charlotte, NC to record our next EP that will released December 2021. 
Our latest EP Among the Ashes is available for streaming on almost all streaming sources, and for purchase via digital download on Bandcamp and CDBaby. With shows opening back up, we are playing some live again, before returning to work on some new materials we've been writing the past year. With 2021 closed, we begin a new chapter, with new members and creative energy already churning out material!  We're planning on releasing a single or two late Spring 2022 and finally a full album by Summer/Fall 2022.