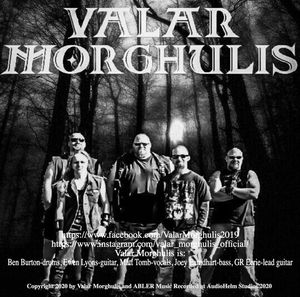 Bio
Valar Morghulis, from the Charlotte, NC area is a death metal band that will unleash a sonic assault on your eardrums.  With a sound that draws inspiration from the likes of Dying Fetus, Lamb of God, Decapitated along with some old school thrash, Valar Morghulis is not for the faint of heart.
The bands guitar riffs are brutal and heavy, with melodic grooves, insane tremelo picking and bone-crushing breakdowns.  The drumming is relentless, featuring blast beats and double bass work that pummel the listener into submission.  The bass lines are deep and rumbling, providing a solid foundation for rest of the band's sound. 
Valar Morghulis' lyrics are just as intense as the music, with themes that revolve around death, violence and the darker side of humanity.  The vocals are guttural and growling that are delivered in a style that is both menacing and commanding. If you're a fan of heavy, aggressive and unrelenting death metal, Valar Morghulis is a band that you won't want to miss.  They are sure to leave you battered, bruised and begging for more!